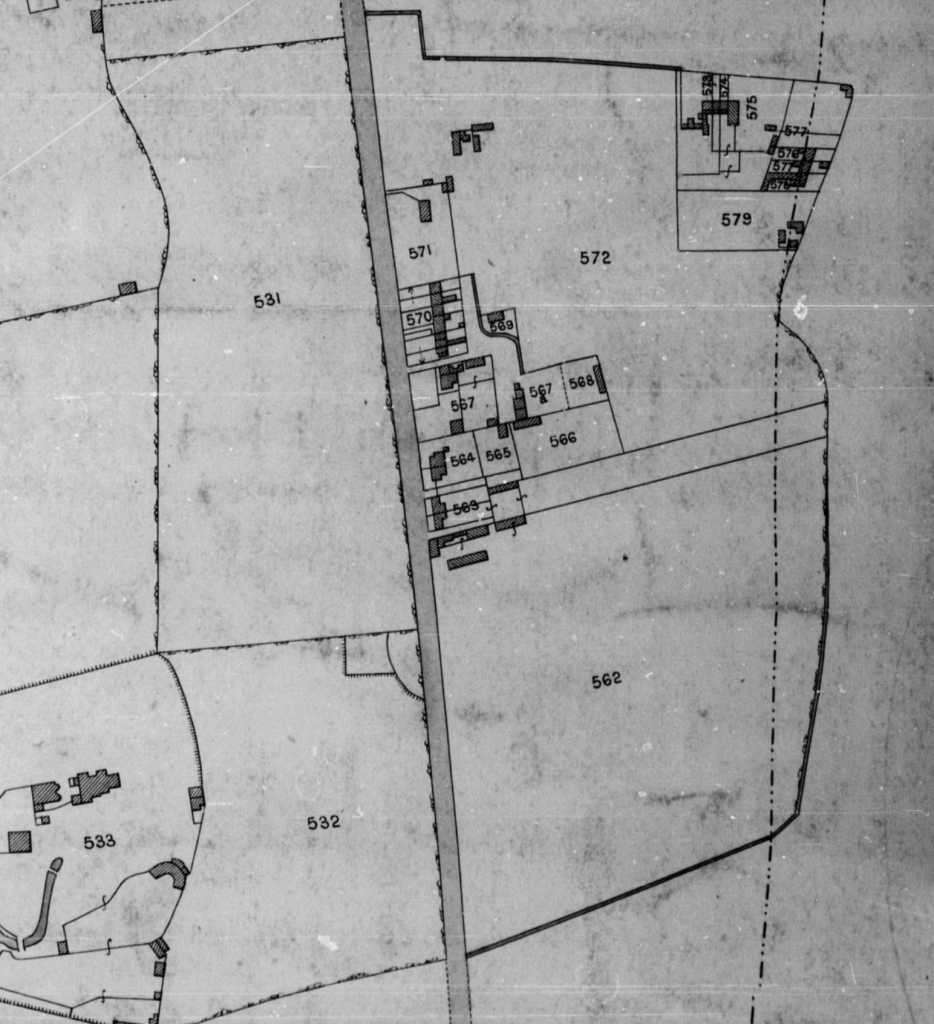 The Earl Spencer Years – Ownership of All Farthing Manor and Wandsworth Common
This series of blogs in our From The Archives series is intended as a resource for schools and local residents who are interested in researching local history.
School children should feel free to use the images in these blogs for their projects or homework.
We are very happy to help schools with access to relevant materials. However, the images that are reproduced here should be assumed to be the copyright and may not be reproduced without license from the archives and commercial use is therefore strictly prohibited.
---
The first proper cartographic map of Wandsworth is John Corris' Map of 1787, for Earl Spencer. This map shows the area of land that All Farthing Piece, which The Toast Rack stands on, as an empty field marked simply as 53.
However, we have to be a tiny with careful with over interpreting Corris' map as he was working for Earl Spencer for the specific purpose of documenting Spencer's lands for estate management.
Earl Spencer did not, in fact, own All Farthing Manor until 1816. And it is really worth remembering that.
It is also worth bearing in mind that an agreement to enclose All Farthing Piece was made 31st May 1810 [Walton Deed Index Vol3 pp.556, Magdalen College archives].
"Mr Blaxland & Others to P.W. Porter
Release of rights of common over an enclosed tract of land called All Farthing Piece."
So from this information we can conclude that the enclosure of All Farthing Piece was agreed well before Earl Spencer become involved with All Farthing Manor.²
There was also an unsuccessful, presumably private, bill in the House of Commons in 1828 "A BILL FOR INCLOSING …. COMMON FIELDS IN THE PARISHES OF BATTERSEA AND WANDSWORTH: ENDORSED "THROWNOUT ON THE SECOND READING MONDAY 31 MARCH 1828"   [LMAA/JM/630].
We have not looked at this file, as yet, but it seems a reasonable surmise that the general enclosure(s) of the common wasn't carried out till after this date otherwise the proposed Act would have been pointless. [This is the subject of active research.]
Three is also a confusingly titled 1823 plan in the John Marshalls Charity collection entitled "COPY BY CHRISTOPHER EDMONDS OF A PLAN IN THE POSSESSION OF EARL SPENCER INDICATING LANDS IN WANDSWORTH BELONGING TO THE TRUSTEES UNDER THE WILL OF JOHN MARSHALL." with a catalogue description of  "The boundaries, acreages and names of fields are shown as well as South Field, North Field, Bridge Field and the Manor of All Farthing" [LMA/A/JM/693].
If the catalogue description and date of this is correct then there is a clear conflict in timeline between this document and the various historical compendia. [This is the subject of active research.]
So it is possible that he was not paid to detail anything more than boundaries on parcels of lands belonging to others. However, Corris does mark All Farthing Piece as 'Common Belonging to All Farthing Manor'. An examination of John Corris' notebooks of the time, which are extant in the Northampton County Archives [SOX 278(1) John Corris terriers], might well reveal if this is a sound conclusion. [This is the subject of active research.]
The footpath or track that passes across the common appears to describe approximate the route of what is now called Trinity Road. The total area of the common, based on the Tithe Maps, was about 400 acres.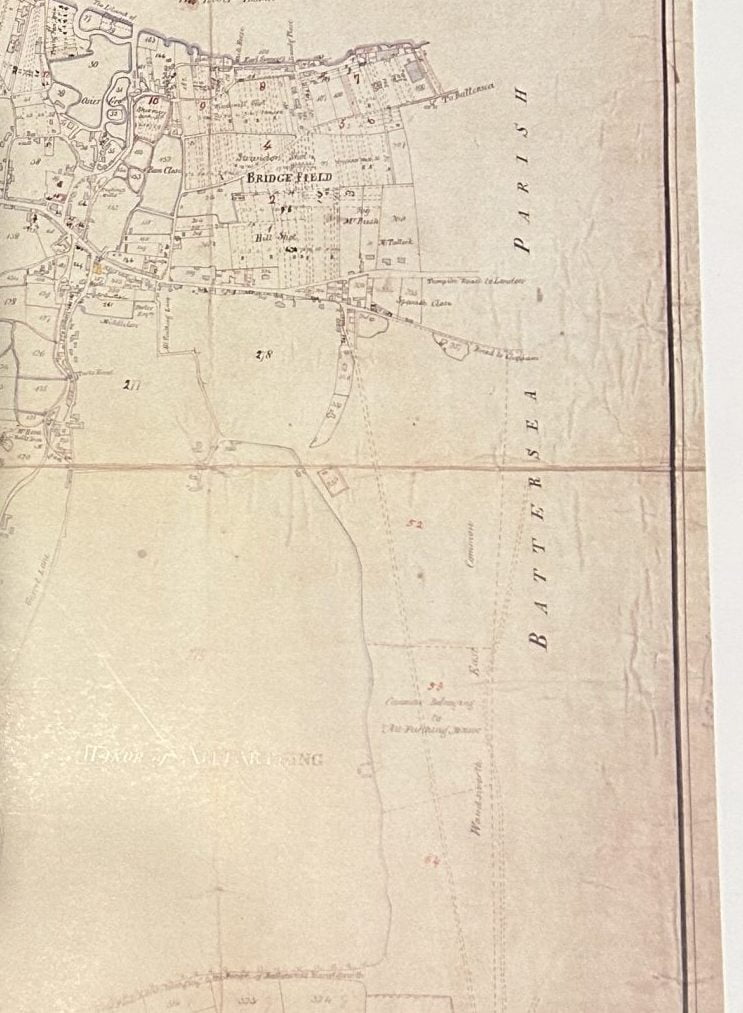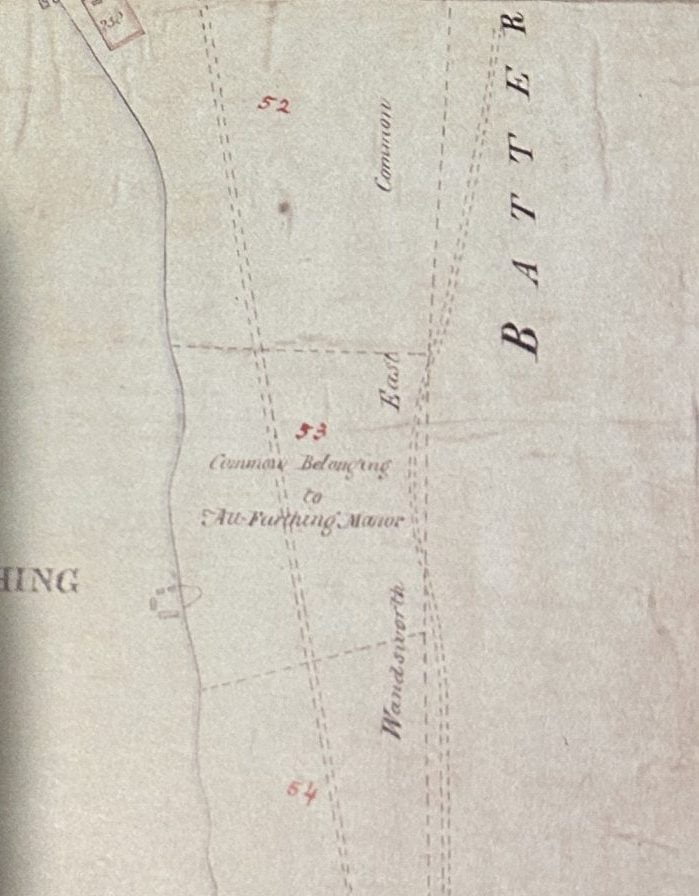 Read on Sophia Sheppard's ownership of All Farthing's historical lands
---
¹Surrey History SHC descriptor for the Manor of All Farthing
The manor of Allfarthing (also known until the end of the 15th century as Allfarthing Finches and Barking Fee) in Wandsworth and Battersea was part of the possessions of Westminster Abbey until the Dissolution, whereafter it was leased by the Crown to a succession of tenants. In 1626 the reversion of the lease to John Bowyer was granted by Charles I to Endymion Porter, and in 1628 the manor itself was granted to Porter, with the remainder later being granted to his younger son Thomas.
Endymion Porter (1587-1649) had entered the King's service through his earlier service with the Duke of Buckingham whose influence secured him the post of groom of the bedchamber to Prince Charles, which post he continued to hold when Charles became King in 1625. Brought up in Spain Porter participated in several diplomatic missions to that country and also assisted the King in forming the latter's great art collection. An ardent royalist during the Civil War he was forced to go abroad at the end of 1645, only returning in 1649, shortly before his death, having compounded with Parliament for his heavily encumbered estates. Allfarthing manor had to be sold in 1652 but was recovered by Porter's son and heir George (?1622-1683) and was retained by his descendants until 1811, when it was sold to Mr White, who in turn sold the manor to Earl Spencer in 1816.
This text on the Manor of All Farthing is from Surrey History SHC record 3991 which is for the 1640 copy of a 1633 map of the manor.
²It was previously suggested in The Wandsworth Common Story – A 150th Anniversary Celebration, Published by The Friends of Wandsworth Common that the enclosure was carried out in 1821. We believe that the primary sources referenced here disprove this assertion.