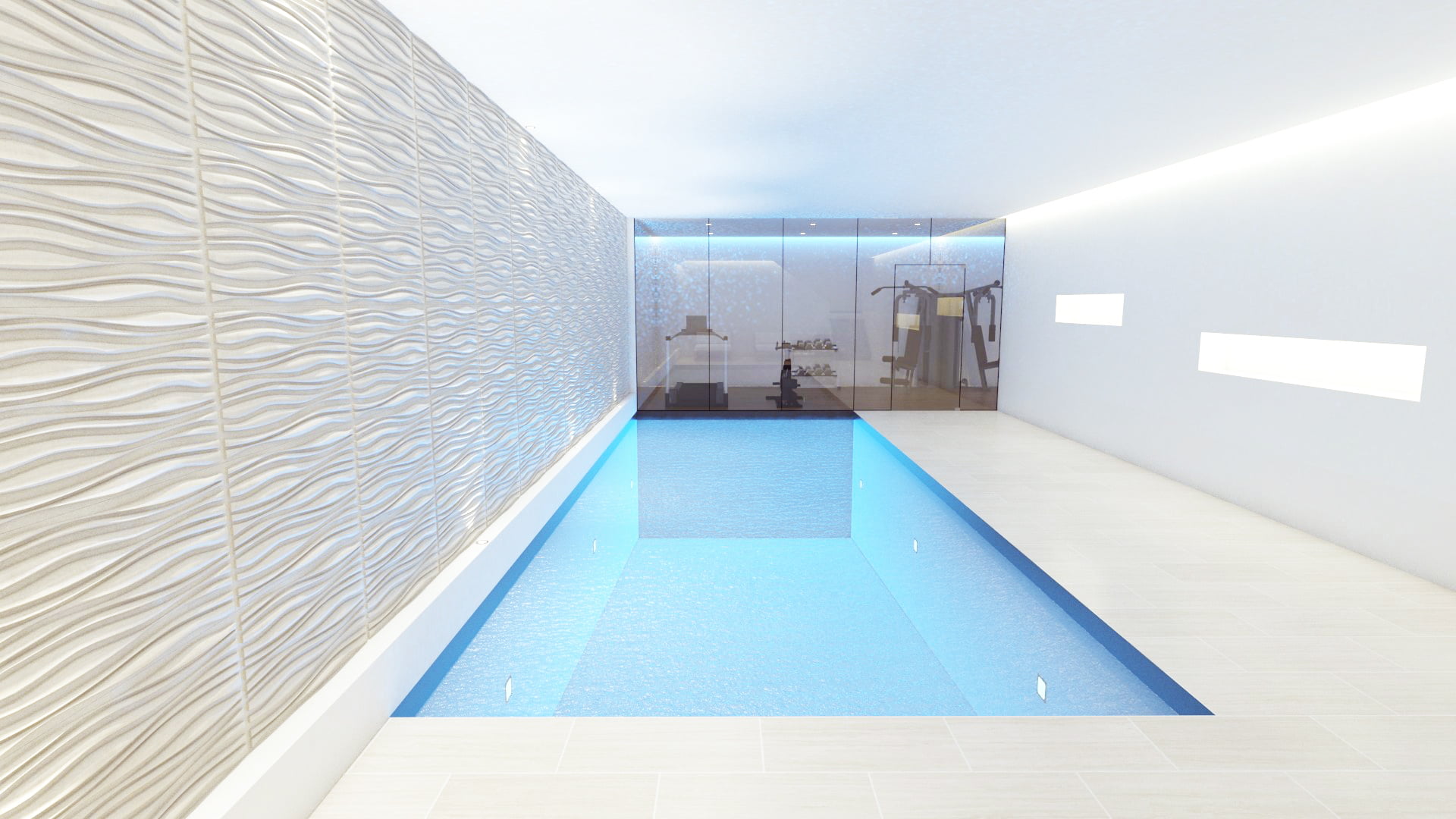 Basement Swimming Pool London
Indoor Basement Swimming Pools, Spas & Steam Rooms
Basement swimming pools, steam rooms and spas are now an established feature of London's prime property market. They allow families and guests to enjoy luxurious leisure facilities in private, while keeping the character and charm of a period home at the original upper levels. Some clients are reticent to install a home swimming pool due to concerns over the amount of energy it takes to run, but these issues have been widely overcome by pool technologists.
OLBC have successfully integrated basement swimming pools with a range of advanced control equipment to produce an environmentally friendly pool. Combined with the advances in purification technology, a virtually chlorine-free pool is now possible, achieving crystal clear water that is soft and wonderful to swim in every day. Home spas and steam rooms are also becoming easier to specify and install, with complete integrated packages becoming widely available.
Marc Stchedroff PhD – Managing Director – In Conversation
Q: why do client come to OLBC for a full basement swimming pool design& build package?
People come to us for basement swimming pools for quite a variety of reasons. The usual reason is that they understand the sheer human complexity of getting an architect, an engineer, a pool plant guy, an M&E guy, maybe a sauna specialist and perhaps a pool /interior designer to work up a scheme! That is a lot of people to coral and get onto the same page.
That is where the experience comes in.
Sometime our clients, who can be architects too, have started down that road and realise that they need help to crystallise a solution. We can do that too.
Q: So how does the process actually work?
So we are into getting our team to actually draw something together in a reasonable timescale and cost scale. Very often our clients are very surprised about how quickly we can actually just get from A to B and come up with a solution. That comes from a good, high level, technical understanding round the room – we are good at thinking as well as building!
It is a challenge: we all always relish that in the office. We quite enjoy building them as well actually, because it's a little different.
Q: Give me an example of a critical design parameter that needs to be at the heart of the process?
Part of the engineering for the air handling in basement swimming pool to go into a basement conversion.

Air handling is usually the trickiest part of a swimming pool in a basement extension or conversion to deal with.
We know that we will need a main duct of X size and that it will need to travel from point A to point B and we, we can then, very quickly develop an understanding of what that is going to look like. We can then brief our engineer and tell them how deep the steel sections they need to put through and where the holes are going to need to be put through the steels.
Now we can assimilate all that data at a first pass. We can see what the floor of ceiling height needs to be.
Q: How do you control the process?
Sometimes we have experienced the engineer proudly coming back to the team and saying, 'I can use a small steel beam' and we have to say, 'well that's not particularly useful to us because we actually need a bigger steel beam so we can cut a larger hole through the middle of it' so the high level driver has been misunderstood!
Ironically, using the bigger steel makes it easier to route the ducts the way we want to route them and the bigger steel beam keeps the ceiling height lower with the ducts disguised into the void.
So, yes, we have to be very clear about the design thought process and drivers but that is why clients hire us because of that clarity of thought and experience.
Q: How does this compare to conventional procurement?
Laughs – I have been there and the pain is real. For very complex things like basement swimming pools in either retro fit basement conversions of basement extensions it really doesn't work well.
Usually you are looking at a process that goes around, around circles for months, in my experience with a, with conventional procurement. Unless you are lucky have someone really experienced in the room to take the high-level design decisions it disappears into rabbit holes.
We cannot work like this we need prompt solutions for our own sanity.
OLBC are the experienced party that prevents rabbit hole exploration!
Q: How long does this process typically take?
From there can then be a very quick process. Maybe even a couple of weeks to get the design fundamentals together. Once the client approves those fundamentals the actually structural pool plant and air handling detailed design can be progressed.
Sometimes, because it's so quick, the clients actually don't fully appreciate the value that we are adding to the process in our own elegant, thoughtful, way.
This is then totally decoupled from the conversations about colours, lighting and finishes.
Q: How does it work with finishes?
Often, even in high end projects, budget driven. Client will want various, off the shelf, solutions and then they can embellish details. For example, in one pool we did polished plaster on some surfaces and textured tiles on another wall.
Generally, our client will work with our team as they will want to get the feel of the space right for them. Other times our clients will ask for some CGI options and pick one. Pools and saunas are very special and personal spaces. It is up to our clients to inform us and guide us as to what they want.
We deal in the art of the possible.
Q: What do you enjoy yourself about the pool design process.
I get to use my chemistry, a bit, in the pool treatment plant design!
I'm usually personally involved in pool design and I do find it very rewarding to get a team round the table to think clearly but I am there to make the high level decisions to keep the design rolling fast to the client's brief.
You end up with these incredible spaces and you can identify where a bit of clear thinking solved a complex problem quickly: it is very rewarding doing that with the team.
Q: What sort of the technical questions need to be answered before starting a pool design?
That is quite a wide question and it is, really, an interactive checklist.
Here are a few for starters:-
Do you want to:-
dive into the pool;
be able to swim lengths in the pool;
teaching kids to swim;
have a counter current machine;
What sort of water treatment system do you prefer?
The first four questions are usually pretty easy to nail down. The fifth question is often harder as it is coloured by 'how unpleasant the school pool used to be' or a friend's pool or some such. Sometimes we have to work with the client to help them put away a misconception other times they know what system they want and it a simple matter of specifying the right version of it.
Then it gets to some environmentally important questions.
Is there a requirement for a:-
pool cover work and where is it stowed;
flush deck pool – where the water is lapping over the edge;
secondary water treatment system;
an activated charcoal filtering system;
passive solar thermal or PV + heat pump system to heat the pool hall?
Meanwhile we can deal with the more technical agenda items:-
pool hall airtightness requirement
air handling system degree of negative pressure desired in the pool hall
heat recovery system
primary, running, heat source for the pool
boost heat source to get the pool up to temperature
One we have those we can work out, with our industry partners, how large the pool plant required is. That then informs us of the scale of the pool plant room required.