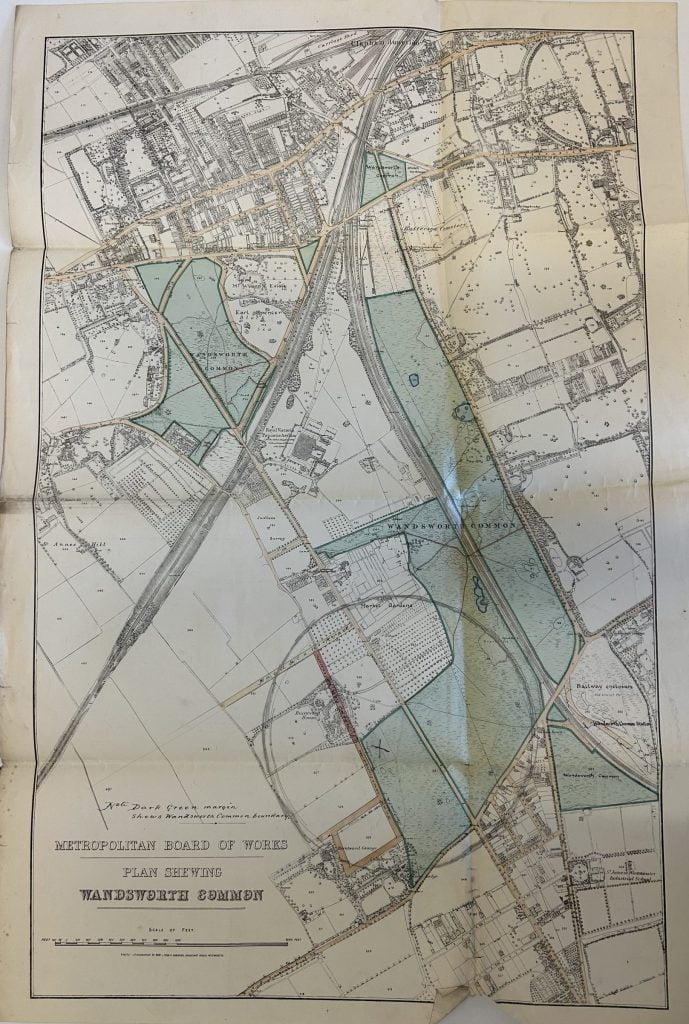 Wandsworth Common from WWII to the present
This series of blogs in our From The Archives series is intended as a resource for schools and local residents who are interested in researching local history.
School children should feel free to use the images in these blogs for their projects or homework.
We are very happy to help schools with access to relevant materials. However, the images that are reproduced here should be assumed to be the copyright and may not be reproduced without license from the archives and commercial use is therefore strictly prohibited.
Through WWII
The Toast Rack, as with most of Wandsworth, was quite heavily hit during WWII.
This is very clear from the LCC collated Bomb Damage Maps but also from these post war aerial photographs.
In this pre war oblique aerial photo from 1939 you can see The Toast Rack on the right hand side of the image just above the pentagonal shape of Wandsworth Prison.
Aerial Photograph of The  Toast Rack and Wandsworth Common East in 1947 showing the bomb damage to Henderson and Baskerville Roads below. If you click on the image and zoom in there appear to be two rather bizarre circular flower beds over the presumed location of the dropped bombs.
A 1948 oblique aerial photo, from a damaged negative, however you can clearly see, in the top right hand corner of the image, the Trinity Road frontage as well as Dorlcote, Henderson and part of Nicosia Roads with the gaps from the houses destroyed by bombing on Baskerville and Henderson Roads.
1941 RAF overhead view of The Toast Rack and most of the Magdalen Estate.
1947 RAF overhead view of The Madglen Estate towards Trinity Road and a partial shot of The Toast Rack.
Listed Buildings
Whilst, for such an old borough, Wandsworth has comparatively few listed buildings: there are two in the environs of The Toast Rack.
White Cottage, 68 Lyford Road – Grade II – 1903 C. F. A. Voysey – Arts and Crafts
The Road Victoria Patriotic Chapel – Grade II* – 1864-66 – French Gothic style
Into the 21st Century
The Toast Rack has longe been a highly desirable residential areas. With homes that are highly interior designed generally with considerable kitchen extension and basement excavations or basement conversions.