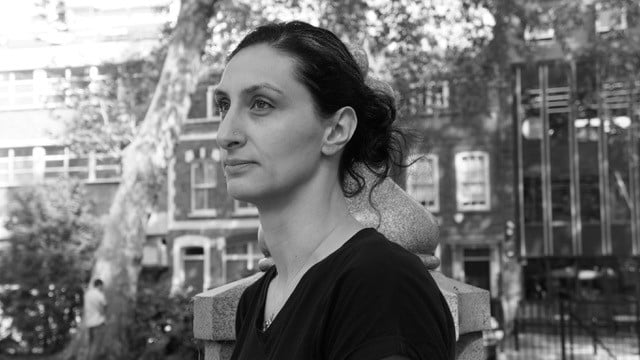 Katharina H: A Specialist in Finishes and Interiors Restoration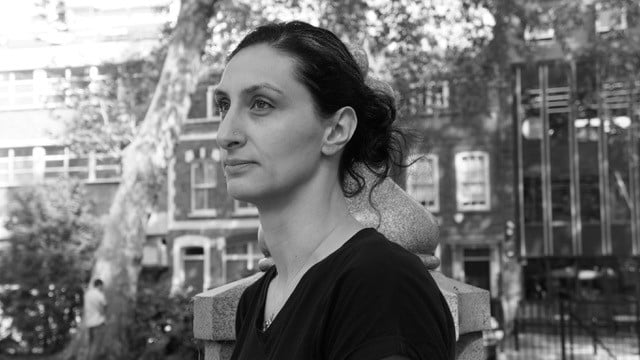 " I love anything made with integrity. Something bespoke, where the product has carefully thought out and designed to be appreciated for years to come"
I met with Katharina, a Specialist in Finishes and Interior Restoration to find out how she became a specialist in her craft. Katharina restored the grand cornicing in the Kensington Gate Project on behalf of OLBC.
Katharina suggested that we meet for our coffee at a vintage clothes shop. Immediately she is drawn to a glamorous vintage dress. Already, I am starting to understand how she has ended up working with heritage buildings
Would you say your interest in historical buildings extends to all aspects of your life?
I love anything made with integrity. Something bespoke, where the product has carefully thought out and designed to be appreciated for years to come. I love bespoke clothes, because it provides you with the opportunity to wear your art.
What does the scope of work entails as a freelancer in specialist finishes?
I specialise in gilding and French polishing, including Verre Englomise, a technique of gilding onto glass that I hand paint intricate designs over.
What do you enjoy about your job?
When I start something starts off unsatisfactory and messy, and I transform it into something beautiful, that will be enjoyed by the owners for many years to come.
I also like the sense of starting something and completing it before I move onto a new project, unlike many other careers.
How did you learn your craft?
Well, my grandfather was a sculptor artist from Vienna, so his legacy has been passed down the family. However; it suits my personality to work in craft. I wouldn't like the pressure of having to create something to earn a living.
I trained at London Guildhall, where we learned a range of crafts from mould making, metal, wood, and science. It may surprise you to know understanding chemistry, is an important part of the job.
That surprises me, how does chemistry play a role?
When I work on cornicing it with involve using noxious substances to remove the original paint using sodium hydroxide, which can be damaging to the skin and eyes. I wear protected clothing but once I have finished I have to ensure the cornicing is neutralised so the alkali does not react with any new paint applied to the surface. To neutralise the high levels of alkalinity, I spray a mild acid solution on the surface in small doses until it has been neutralised. I test this with pH paper at every step. Once the paper has turned green, it means that the surface is now neutral, and than I can be sure the area is safe to paint over.
After you completed your degree, how did you end up specialising in cornicing and ceilings?
First of all, it took an internship in Amsterdam, where I worked in Amsterdam's historical museum, Museum Willet-Holthuysen. I worked in a beautiful townhouse that was handed down from a benefactor. I fell in love with the beautiful frescos'. After that, I worked on a furniture projects at Adam House, which is based in Mansfield Street, which backdates to 1783.
I then fell into work on ceilings on that project, although it was on a small scale. After this job I started working on ceilings on a much grander scale.
What is the proudest moment in your career to date?
I feel proud every time I complete a job.
What is the most challenging part of your role?
Working within short time frames, the job can it can be quite pressurised which results in me working twelve hour days.  I try and pre-empt what difficulties could arise before I start a job. For example I try and assess the extent of the damage. Fortunately working in Kensington Gate, the cornicing wasn't too damaged. There was a section in the living room, where cement poured over it as a quick fix, but fortunately the area was relatively small. It was an enormous job to complete the first phase in three days. The job requires a lot of patience. I am often working with my hands above my head from eight in the morning and I can be working until midnight. I certainly won't be cursed with bingo wings anytime soon!
Is it a struggle to work without daylight?
I will use specialist lights and halogen bulbs to lights the area, however I have to work in daylight if I am colour matching.
What is your favourite building?
I love the interiors from the Tudor period. I love the darkness and intricate detail used. That said; I equally love the lightness of colonial Dutch houses, with large windows in narrow houses.
Do you find out interesting stories about the buildings you have been working in?
I often only find out what the owners know, so I have to detect what is already there physically. I have to go on a treasure hunt and investigate, using my peripheral senses to detect the missing pieces.
Sometimes a historical consultant comes in. I often investigate what techniques have been used and replicate them. There are rows of terraces on Telegraph Hill, dating back to the 1880's where the owners chose their interior features from a pattern book. The pattern book gave them choices, which they mixed and matched. Each home has a different combination of details, depending on the choice of the owner from that period in time; I love that personal touches have survived over time.
What skills do you need for your job?
Tenacity and patience. Most importantly, you need a burning passion for interiors and architecture. Anticipation is key to executing the job within a time frame. I try and build a story of what I might find before I arrive on site.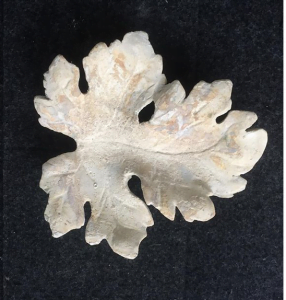 Can you talk me through what process you used when working with the gilding in Kensington gate?
The first phase would involve stripping all of the paint applied since the first ever application. Once years of paint have built up, the original design is completely lost.  It does sadden me slightly that despite the British strong sense of heritage, there are still time where owners are happy to depart from the original features, and I have known cornicing to be thrown in a skip!
There were layers and layers of modern polymeric paint; I delicately remove this using Sodium Hydroxide. Underneath this is distemper paint, based on milk protein that has a chalky finish. This is then washed with small amounts of water, which softens it, and then I carefully pick it out using sculpting tools.
The next stage is to restore the existing cornicing, and to fill in the gaps by recreating sections or replacing all of the missing detail. Where I need to recreate sections using original details I replicate them by creating a silicone mould, and then remould them in sections, these are sometimes referred to squeezes in jargon.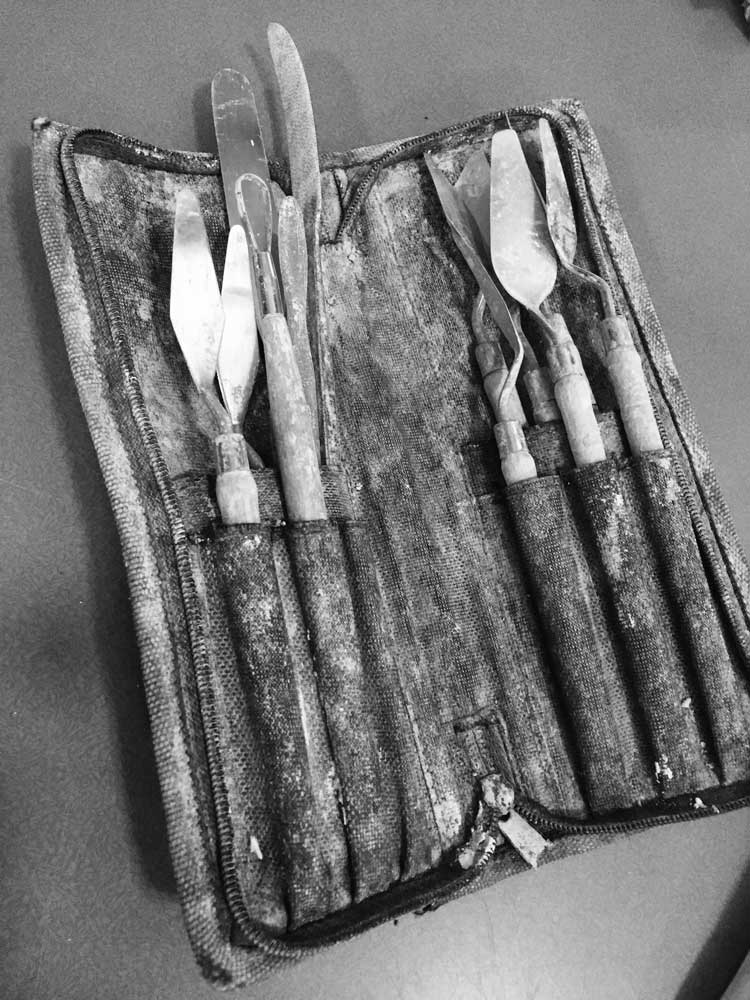 How much time does it take you to complete each stage of the work?
With a wide cornice I usually work on a metre per day. With a narrower one, I can get through two/three meters per day.  I require a day of preparation before I begin to protect all of the surfaces, and day afterwards for cleaning.
After Katharina showed me the images of the cornicing after she has finished stripping off the paint, she mentions that recently there has been a trend in leaving the cornicing unfinished, leaving the intricate layers to be appreciated in its natural form. It crosses my mind, that the clients that choose to opt for a raw finish must appreciate detail to degree that Katharina does…
At the end of the interview, her tall figures fades into the distance, and I sense that she is type of person that walks down the street, with her eyes wide open, appreciating, learning, evolving….
Words and photography by Emma Coady, Marketing Manager for OLBC
Katharina is just one of the many specialists that work on OLBC projects. Learn more about our unparalleled architectural experience and planning services or get in touch to discuss the unique specifications of your dream build.