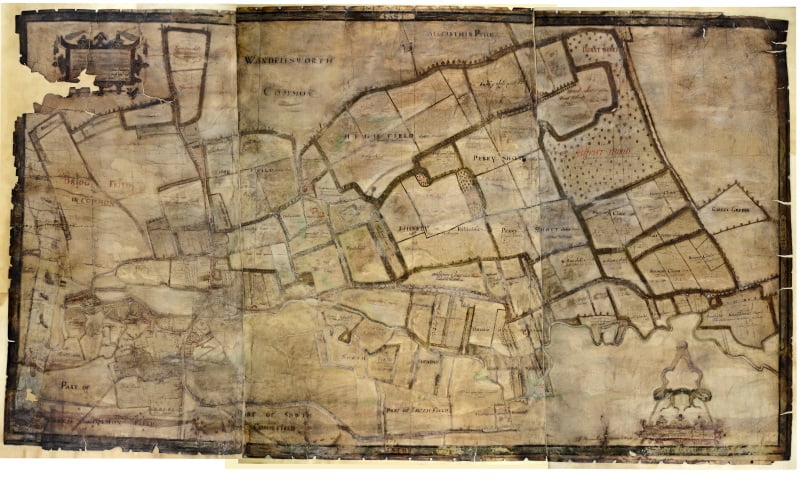 The Manors of All Farthing, Wandsworth and Battersea: Wandsworth Common
This series of blogs in our From The Archives series is intended as a resource for schools and local residents who are interested in researching local history.
School children should feel free to use the images in these blogs for their projects or homework.
We are very happy to help schools with access to relevant materials. However, the images that are reproduced here should be assumed to be the copyright and may not be reproduced without license from the archives and commercial use is therefore strictly prohibited.
---
In mediaeval times the Common was owned by the Church, but following the dissolution of the monasteries under Henry VIII saw ownership split between the separate manors of Battersea and Wandsworth.
It has been stated that the dividing line between Battersea and Wandsworth runs N-S across the Common and some of the old boundary markers are still present such as those on the path to Routh Road. But it is really a rather more complex situation than that as it is the meeting point of three manors being Battersea, Wandsworth & Old Farthing.
However, we would suggest that it is possible, based on a 1633 Map of the Manor of All Farthing that All Farthing Piece [now The Toast Rack] never really was a part of the common proper and may well have been enclosed from the 1600's. The map was badly water damaged and restored in the 1990's – unfortunately there does not appear to be a legible key. The way the field boundaries are marked appears to distinguish between common land and other lands.
Further, claims that the John Roque of 1746 – was the first to show an area called Wandsworth Common appear ill founded: as we can see Wandsworth Common marked on this 1640 cope of a 1633 map top centre over 100 years earlier. And it might well be significant that Wandsworth Common is distinguished from All Farthing Piece by a thick boundary line rather than a thinner field division line.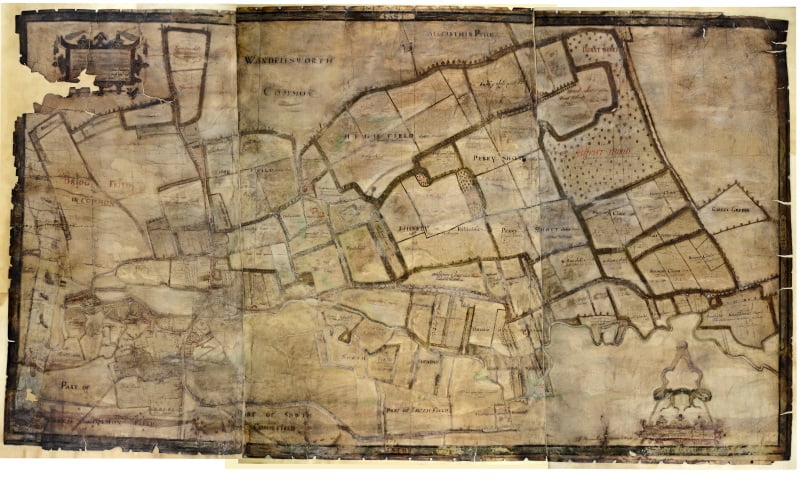 The manor at Battersea was held by the St John family, including Henry St John, who became Viscount Bolingbroke in 1712, giving the names to plenty of local landmarks. The St John names live on with St John's Hill and the Bolingbroke names live on with Bolingbroke Grove. The family's falcon shield lives on in various pieces of church masonry.
Read on The Earl Spencer Years
---
Victoria Histories Description of the Manor of All Farthing has a very different slant.
The manor afterwards known as ALLFARTHING appears in the second half of the 14th century as three separate fees in the possession of Westminster Abbey. (fn. 91) Lands in the first of these, in which in the course of time the other two became almost entirely merged, seem to have been held of the abbot by John and Gilbert of Allfarthing, tenants of his manor of Battersea, the former early in the reign of Henry III, (fn. 92) the latter about 1268. (fn. 93) Their name does not seem to occur again, but part of a Wandsworth estate which John de Molyns, lord of Stoke Pogis, (fn. 94) acquired in 1334 of John son of Robert de Domelton (fn. 95) was called Allfarthing, (fn. 96) and from 1366 onwards the manor of Allfarthing was accounted for among the possessions of the Abbot of Westminster. (fn. 97) The name of BARKING or BARKING FEE, the second holding, is found in the name of a tenant, John of Barking, who with his wife Alice and of her right held lands in Wandsworth in 1248 (fn. 98) and until 1253. (fn. 99)John was a tenant of the abbey in 1249, when the tithes of his land were assigned to the vicar of Wandsworth in the division then made, (fn. 100) and Alice was amongst the Wandsworth free tenants of the Battersea Manor in 1268. (fn. 101) She may have been succeeded by Peter of Barking, who served as a juror here about 1320. (fn. 102)
In 1368 and 1369 the abbot's court was held in the fee of Barking, then apparently a separate manor, and from that time it remained one of the Westminster possessions. (fn. 103)